Thomas Jefferson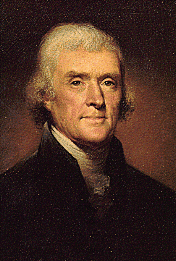 Photo courtesy the official Internet web site of the White House. Click on the photo for a larger image.
Thomas Jefferson was the 3rd president of the United States, the author of the Declaration of Independence, and the orchestrator of the Louisiana Purchase Treaty.
Mr. Jefferson was born April 13, 1743, in Albermarle County, Virginia, the son of a planter, his father, and a wealthy socialite, his mother. Jefferson studied at the College of William and Mary, in Williamsburg, Virginia, and married Martha Wayles Skelton in 1772. He served as president from 1796 to 1804.
Jefferson retired to his home in Monticello and died July 4, 1826.
You may learn more about Mr. Jefferson at this web site: http://www.monticello.org/. Our Links page also has more links to sites with information about Thomas Jefferson.